You can now access Outwrite on Edge
Good news, Edge users: you can now access Outwrite anywhere online with our new browser extension.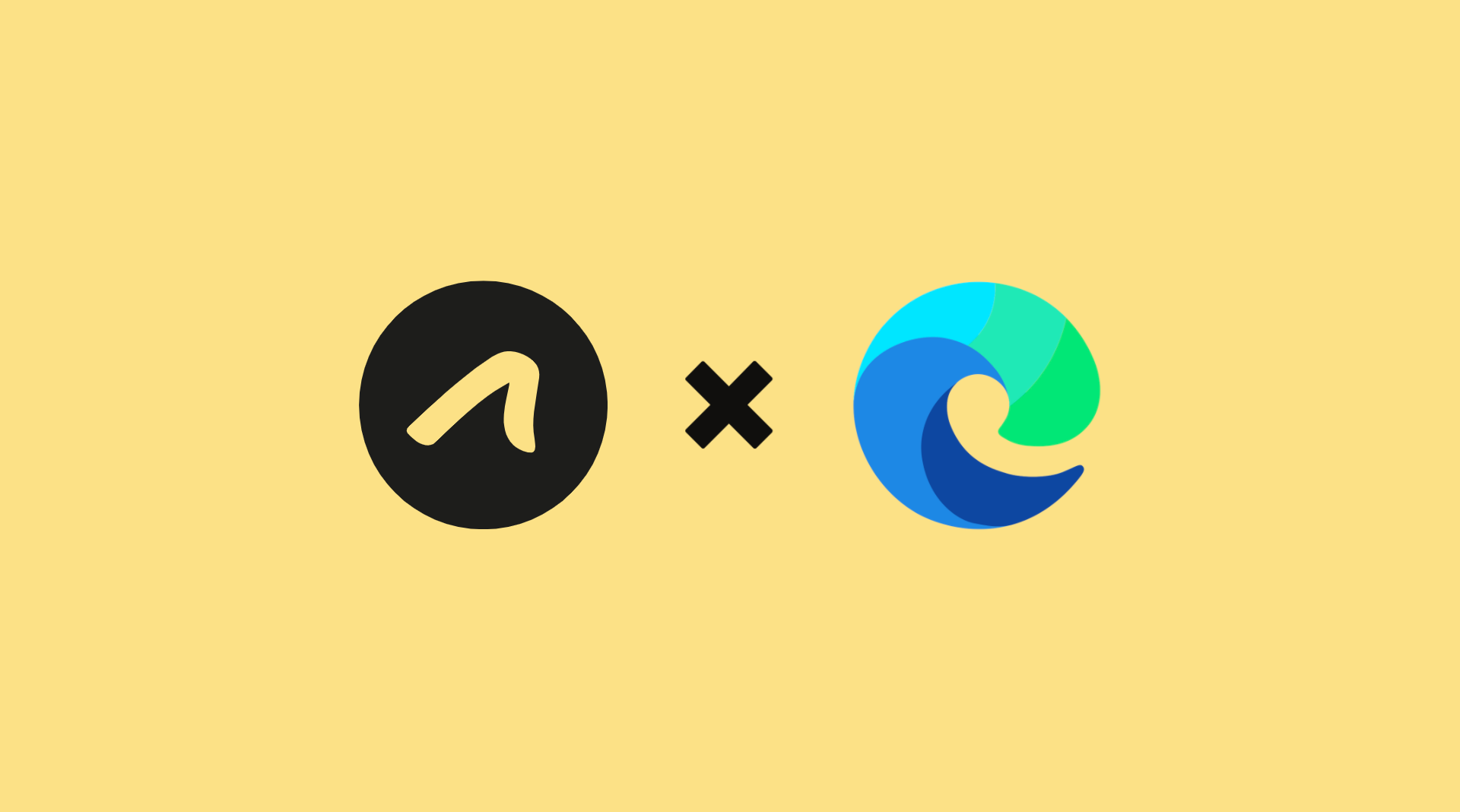 While Chrome may be the web browser of choice for most people, Microsoft Edge's popularity is soaring. It is now the second most popular web browser in the world, reaching a market share of 10.22% in October 2020.
If Edge is your go-to browser, you're in luck: Outwrite has just released a browser extension for it.
Our Edge extension can help you become a better writer, wherever you type online. You can use it to proofread posts on Facebook, paraphrase emails in Outlook, and refine articles on Medium.
Head to the Add-ons store to install it for free, or read on to learn how it works.
Getting started
Installing the Edge extension is pretty straightforward. Once you've found Outwrite's listing on the Add-ons store, click "Get" then "Add Extension". You'll be taken to a new tab to sign in to Outwrite, or create a new account.
You'll then receive the following confirmation message, with a textbox demonstrating how the extension works.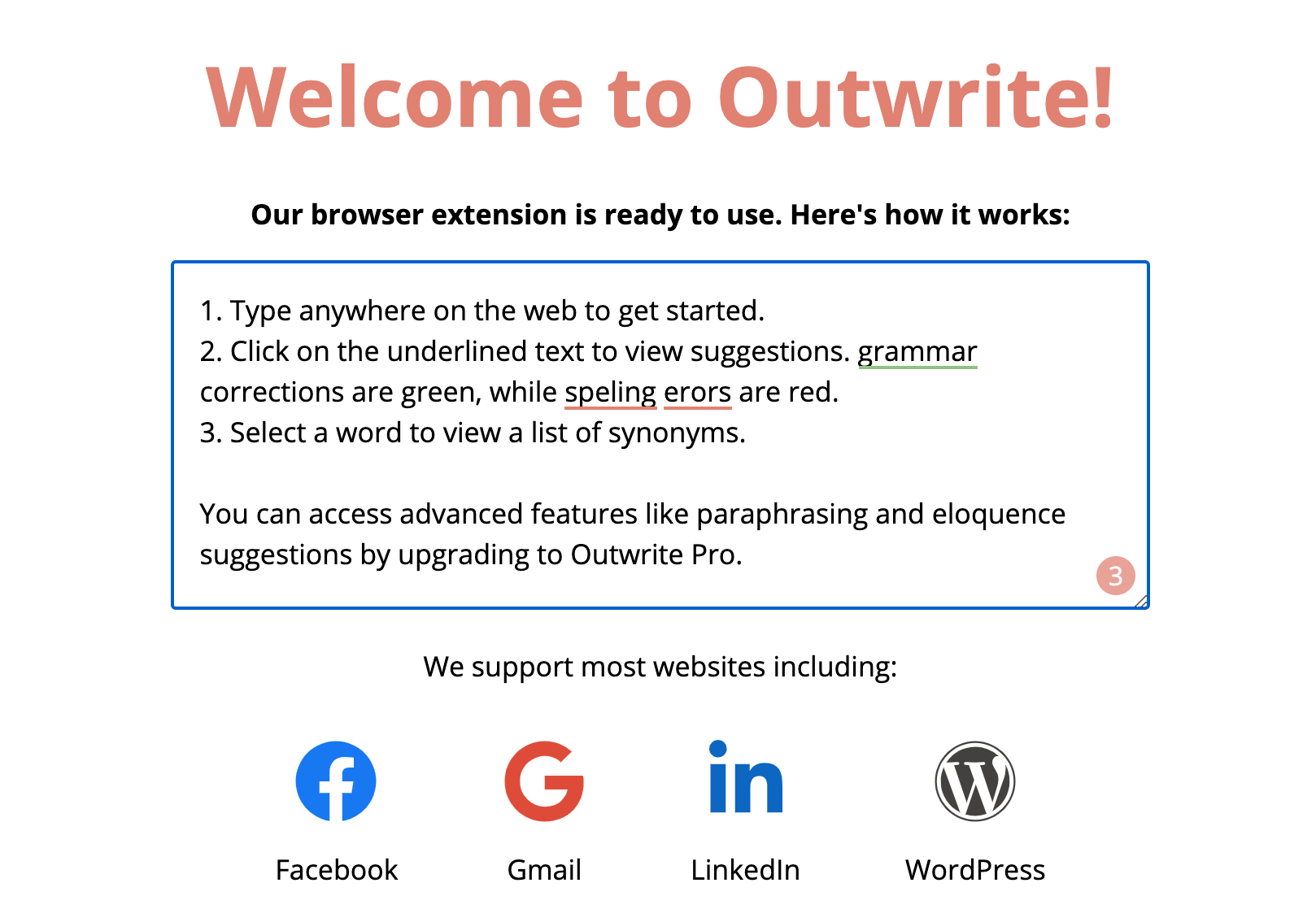 Now that you've installed the browser extension, let's look at what you can use it for.
Correct grammar and spelling errors
If you're writing an important email, or a social media announcement, it's imperative that your grammar is correct. All it takes is one bad typo to damage your credibility, or even a loss in sales.
Outwrite can save you from embarrassing mistakes, by underlining them as you write. Spelling errors will be underlined in red, while any grammatical mistakes will be green. You can access the full Outwrite Editor by clicking on the red button at the bottom right of the textbox you're writing in.
View synonym suggestions
If you're guilty of using the same word multiple times or want to strengthen your vocabulary, Outwrite's thesaurus may come in handy.
Just highlight or double-click on the word you want to change, and Outwrite will suggest a list of synonyms based on the context of your sentence.

Write with eloquence
Grammar and spelling mistakes aren't the only things that Outwrite will underline. Outwrite Pro users may also notice words or phrases underlined in blue. These are your eloquence suggestions.
Eloquence aims to improve the quality and flow of your writing. They're typically stylistic and structural changes, like removing unnecessary words or rephrasing something to make it easier to understand. You can learn about Outwrite's most common eloquence suggestions here.
Rewrite sentences
If you're an Outwrite Pro user, you also have access to one of our most powerful features: our AI paraphrasing tool, Rewrite. It suggests different ways to reword and restructure your sentences according to your writing goal. You can use it to make your text more simple and concise, or to say the same thing in a more compelling way.
To paraphrase something using our Edge extension, either highlight the text or click on the purple rewrite button at the bottom right of your screen.
Manage your settings
There may be websites that you don't want to use Outwrite for, or specific features that you'd like to disable. If this is the case, click on the Outwrite logo at the top of your browser and use the toggles to disable or enable features.
You can also use this dropdown to change your preferred version of English and to access your account settings.
Get Outwrite for Edge
You can install Outwrite's Edge extension for free here. If you find it useful, feel free to leave us a review!