Outwrite is more than a grammar checker. It not only fixes mistakes—it helps you become a better writer.
Our AI-powered writing assistant offers a range of stylistic and structural suggestions to improve the quality of your writing. Let's take a look at each:
Pro Features:
Rewrite Engine
The Rewrite Engine is an experimental feature that offers different ways to rework a sentence, adding fluency and variety to your writing.

Eloquence Engine
Phrasing
The Phrasing Engine searches for ways to improve the flow and eloquence of your writing style. This includes changing sentence structure, vocabulary and other enhancements to produce clearer writing.
Efficiency
The Efficiency Engine looks for wordy language that can be more concisely expressed. This helps writers to be more specific with their writing and more effectively convey their ideas.
Vocabulary
The Vocabulary Engine provides alternatives for weak words.
Passive Voice
The Passive Voice Engine looks for cases of passive voice that might be improved if written in active voice.

Experimental Engine
The Experiemental Engine contains the latest AI-powered features. These suggestions are still being refined, but are often very powerful.
Plagiarism Engine
Check the originality of your document by searching and comparing it to publicly available text on the internet. This allows the writer to ensure the integrity of their work, especially useful for students who are submitting assignments that will be checked for plagiarism.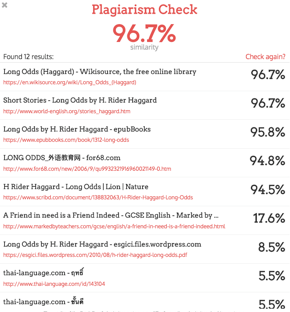 Free Features:
Spelling
Outwrite's spelling engine will check every word in your document against the English dictionary. Outwrite's smart algorithm will give you the best correction suggestion for each of the spelling mistakes.
Grammar
The Grammar engine searches your document for any grammatically incorrect phrases. This includes mistakes with tense, duplicated words and phrases, incorrect use of punctuation, incorrect phrases, subject verb disagreements, missing determiners and word confusion.
Thesaurus
Our Thesaurus Engine finds the best alternate expressions available in that context.
Platforms:
Outwrite is available on 4 platforms; Google Docs, Chrome, Microsoft Word and the Web.
Plans:
We offer both Free and Pro plans for Outwrite. Our Free Plan will give you access to spelling, grammar and basic phrasing suggestions. Upgrading to Outwrite Pro will unlock access to all of our advanced features including sentence paraphrasing, eloquence improvements, word targeting and plagiarism checks.
Try it out
Creating an Outwrite account is easy. Just sign up here for free, upload or create a document, then start editing!